Beef Pho And Sichuan v3.0 Join Our Ramen Line Up!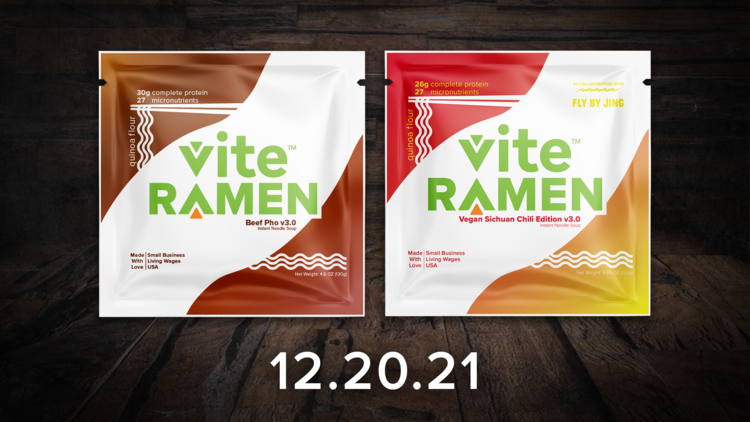 The long awaited Vegan Sichuan Chili Edition v3.0 is finally here, as well as a brand new flavor, Beef Pho v3.0 that we'll talk about later! Unlike the original three flavors, we're not really going to do a full patch notes on this, namely because, well, not too much has actually changed. Sichuan Chili Edition has proven to be one of the most popular flavors, and especially since it's a collaboration with the ever awesome Fly By Jing, we didn't change too much. But, if I were to write patch notes for it, it'd probably go something like this:
Vegan Sichuan Chili Edition Changes:
-> changed v1.2 noodtrients to v3.0 noodtrients (read about the noodtrient changes here)
-> added a bit more salt and soy sauce
…
yeah that's it.
Overall, that just means you get the same delicious Sichuan Chili Edition, with a little bit more oomph on the salinity department, and less of the gluconate flavors that we discussed in the v3.0 patch notes.
As many of you may have noticed, there was a gap between the v3.0 release of our original 3 flavors and Vegan Sichuan Chili Edition v3.0. Why is that?
Well, long story short, supply chain issues. Which, I mean, I know everyone talks about all the time and we've talked about before, but they're still happening, and even the gigantic companies are being affected, which means we are too. Some key ingredients were held up for a very long time and suffered significant delays, and so we had to make the hard decision of delaying the release of Vegan Sichuan Chili Edition v3.0 for a later time.
Honestly, the original v3.0 flavors were meant to be released a lot earlier as well, but our plans had to be delayed from a late spring/early summer release all the way back to a November release! Yikes.
But, hey, all's well that ends well, right? Vegan Sichuan Chili Edition v3.0 is going to be available for preorder on Monday under a Wave System! Subscribers will get early access to the preorder!
Wait, pre-order, you say? Why pre-orders, and what is this Wave System you speak of?
Long story short, the Wave System is our way of combating supply chain pressures and organizing our small team to be efficient and not cause excess stress and overwork. As many of you know, we are adamant on treating our people well, including making sure everyone is mentally and physically healthy-- A key tenant to that is to prevent burnout from too much stuff piling on at once.
This lets us manage how many units we need to allocate during each Wave, and temper everyone's expectations accordingly, and allows us to give better estimates for people as to when they can expect their order! Each Wave will have a limited amount of units and will last until an certain amount of units are sold that reaches our capacity.
Wave 1 will last until we reach capacity for that Wave.
Now that's out of the way, we'll talk about the brand new Beef Pho (pronounced "fuh", like "duh") flavor, which I'm sure a lot of you are excited to hear about. One of the big questions many people have been asking is, what happened to our original Limited Edition Grilled Ribeye Beef flavor? First, it was a limited edition. Second, simply put, it had a... mixed reception. If you liked it, it seemed you really liked it. But if you didn't, it seemed you really didn't like it.
We definitely caught a lot of flak for it from people who got a different kind of beef flavor than what they expected, especially because we introduced some spices and flavorings that many people didn't enjoy as much, as they were expecting a purely western cuisine type affair, and didn't enjoy some of the more fermented, spicy, and numbing ingredients in there.
This was a good lesson for us in terms of expectations. If we create a flavor that appeals to someone who primarily enjoys western cuisine, and also implement more exotic asian spices and flavors, we should have the name of the flavor reflect as such. That's not to say we can't stray from the beaten path in flavorings, just that we need to temper expectations as such-- After all, if we were people who didn't like experimenting, Vite Ramen wouldn't exist at all!
Beef Pho v3.0 is meant to be a staple beef flavor, but is an interesting concept in and of itself. Pho is a noodle soup with broth, but classically, pho uses rice noodles. We're using ramen, and non-traditional ramen at that. By definition, this then becomes a fusion dish of sorts with the broth hailing from the traditional pho broth traits, while the noodles are still the good 'ol Vite Ramen noodles you know and love.
Philena, our head of R&D, as well as James, Vite Kitchens' President, are both Vietnamese Americans, which gives us unique insights into the flavor, as they've grown up with it. We knew that our non-traditional approach, especially combined with the characteristic taste of our noodles compared to the more neutral rice noodle flavor meant we had to approach the flavor of the broth from a non-traditional angle.
We are, after all, Asian Americans, with all the shared experiences of Asian Americans. Many of us, despite being Korean, or Chinese, or Vietnamese, or Japanese, or Thai, or any other background, have a similar dissonance with both the culture of our ancestors as well as the American culture we grew up in. We fit in with neither, and are foreign to both.
Yet, we've come to notice that, despite our different cultural backgrounds, we tend to have certain shared experiences, and shared flavor memories and tastes. Even though my family comes from Shanghai, Fujian, and Shangdong in China, I grew up eating all sorts of different asian cuisines, and particularly loved pho and ramen. James' family is from south Vietnam, but he has a particular affinity for Taiwanese boba shops. Philena's dad originated from North Vietnam, while her mom was from South Vietnam, but she often brings up Thai dishes as a point of interest.
Our core flavor memories are that of our cultural heritage, but mixed in there are the myriad flavors and dishes of other asian cuisines, other Asian American creations that have mixed, tempered, and evolved in the course of their stay in the USA. Asian American cuisine is, I think, truly a special fusion of flavors that deserves its own exploration and respect, and one that our Beef Pho flavor really is based on.
Anyway, here's the flowery version of the Beef Pho flavor description going on the product page:
"A heartwarming, comforting soup with notes of deeply roasted ginger, onion, and beef bone gives way to a spiced, complex aroma with star anise, cardamon, and sweet ceylon cinnamon. Evocative scents of Makrut Lime leaf and Chinese Five Spice are masterfully infused with a touch of soy sauce for a one of a kind experience that can only be found with the blended Asian-American experiences our team here has experienced. Each unique member of our team brings a taste of their upbringing and ancestors into the mix, from North Vietnam to South Vietnam to Coastal China for a pho-style ramen, a faux-pho, that can't be found anywhere else in the world"
Is this pho traditional and crafted according to an old traditional recipe? No. Our Beef Pho flavor isn't here to replicate, or replace, the delicious bowls of clear brown broths from the local hole in the wall spot. It's not designed to taste just like the experiences of those who grew up in Vietnam, or the flavors of those who have dedicated themselves to that particular craft. This pho is, unequivocally, unapologetically, the pho as made by us, the Asian Americans creating our own place in the world, the pho created as a culmination of our team's experiences, tastes, and skills, the pho that the diverse Vite Kitchens team from all kinds of walks of life and backgrounds made together. Something new, yet, something familiar-- A pho-ramen, a faux-pho, and a continuation of the boundaries we push with Vite Ramen and what we can do.
We hope you enjoy both our new Sichuan v3.0, and our Beef Pho v3.0, and as always, we are grateful for your continued support and love <3
-Jian (Tim) Zheng, Founder of Vite Kitchens